Focal Elegia Closed-Back Over-Ear Headphones
Introducing the Elegia from Focal. Focal hit the headphone world hard and fast when they first came into the market with the releases of the Utopia and the Elear which took the headphone world by storm. But they did not stop there, in November of 2017, Focal released the Focal Clear which was met with universal critical acclaim and became the dominant headphone in the $1k range.
High-end closed-back headphones for home and on-the-go use
Exclusive full-range speaker drivers with an M-shaped aluminum/magnesium dome (patent pending)
Incredible tonal balance, reproduction of the tiniest sound details at both very high and very low frequencies
Excellent performance when connected to a portable audiophile player
Very good ambient noise soundproofing
Comfortable and ergonomic
The Headphone COMMUNITY Reviews
Elegia is an audiophile over-ear closed-back pair of headphones from Focal. The ergonomic design makes them incredibly comfortable and offers excellent sound isolation, making these headphones the ideal solution for long listening sessions. Continuing its headphone development programme, the Focal R&D team has introduced several new innovations, all with incredible audio performance in mind. The full-range 'M'-shape aluminium/magnesium dome speaker driver provides a very high frequency response, which is the basis for Elegia's supremely dynamic sound. In addition, the frameless voice coil, which is lightweight yet incredibly stiff, reproduces the minutest details that adds to the convincing all-round performance. With its incredible tonal balance combined with long-term comfort, the Elegia is a key reference in the high-end closed-back headphones sector.
High-Performance and Power
By integrating speaker drivers into closed-back headphones, Focal has written a new chapter in its history. Manufactured in our workshops, Elegia is a mass of brilliant, in-house and French-made technology, dedicated to sound and music lovers.
A new generation of exclusive, full-range speaker drivers, an "M"-shape inverted dome, a frameless copper voice coil...: every component has undergone cutting-edge research and been meticulously considered. The sound reproduction is precise, and the power is certainly not lacking: Elegia is incredibly high-performing when connected to portable audio players.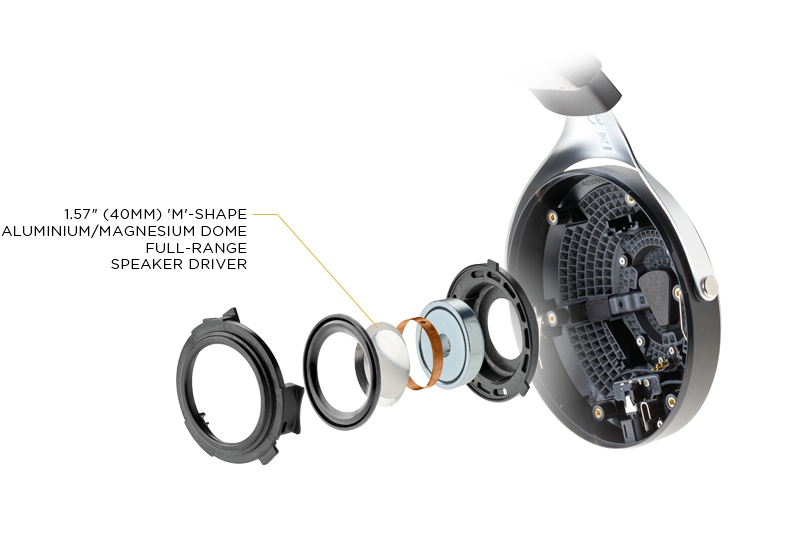 The first task in designing a closed-back headphone was to define a new generation of transducer. It had to be capable of operating at a low volume while maintaining exceptional dynamics, delivering an extremely extended frequency response, and reproducing the subtlest sound details. Thanks to the knowledge acquired while designing Utopia, Focal made significant progress in simultaneously managing the bass level and its degree of control.
The Elegia utilizes a dedicated surround, constructed in the same way as the Elear, Clear and Utopia speaker drivers. It is constructed from the same material at a thickness of 110 microns. The geometry of this new half-roll NBR surround was the subject of an extremely detailed study on how to gain optimum control of the moving part, even at the lowest frequencies and loudest volumes.
The need for more magnetic flux for increased speaker driver control led to the design of a brand new copper wire, working inside a very high-performance N50 grade neodymium motor. The magnetic damping curve highlights the significant advantages inherent in this perfectly formed relationship.
The very low QES provides excellent electrical damping, over the entire travel of the moving part. The signal is, therefore, reproduced without additions, losses and any dynamic compression across the entire spectrum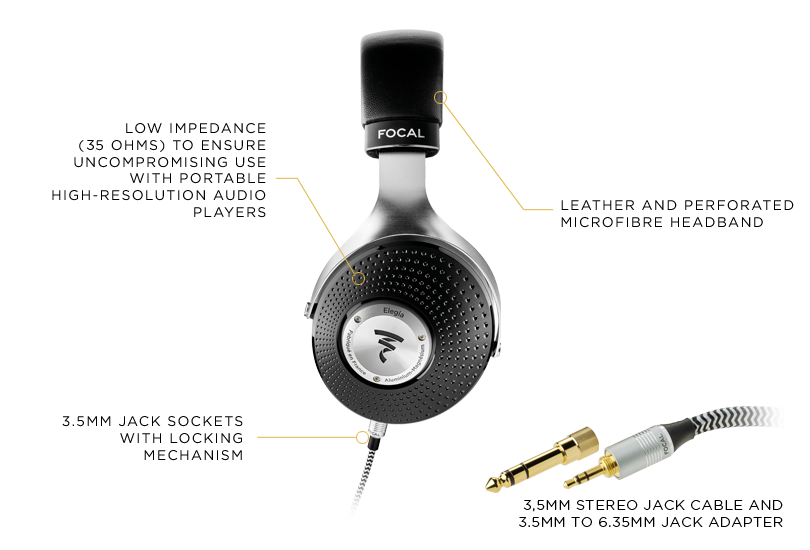 The aluminum-magnesium alloy dome used for Elegia uses the same materials and geometry as those developed for the Clear headphones. It offers an ideal combination of lightness, high rigidity, and excellent damping. As such, the dome still works by piston-effect and is free from mechanical distortion. The M-shape of the dome permits a larger emissive surface area, enabling even greater maximum SPL. At the same time, this choice results in the ideal coil positioning for optimum mechanical coupling.
In short, the moving part is always under control and has maximum acceleration capacity, key to reproducing subtle sound details. The filtering carried out downstream will be decidedly minimal, favoring a dynamic and highly accurate reproduction of the original audio signal. Developing the transducer in this way provides an extended frequency response of 23 kHz.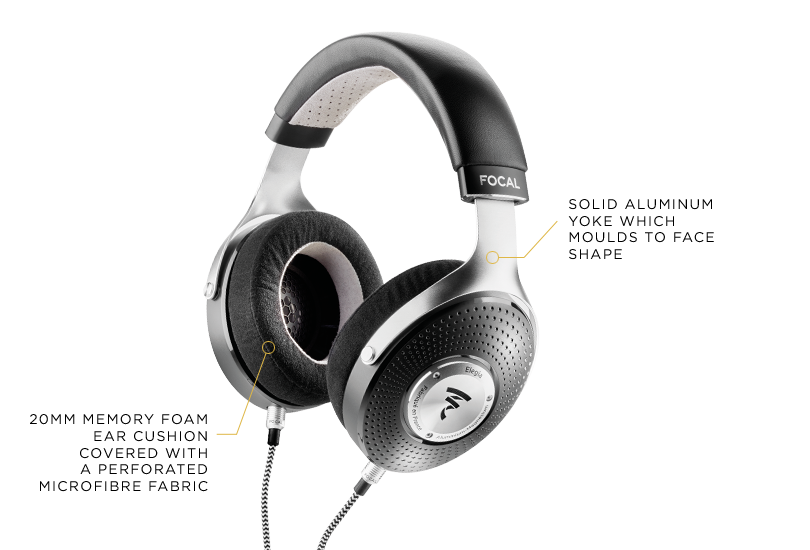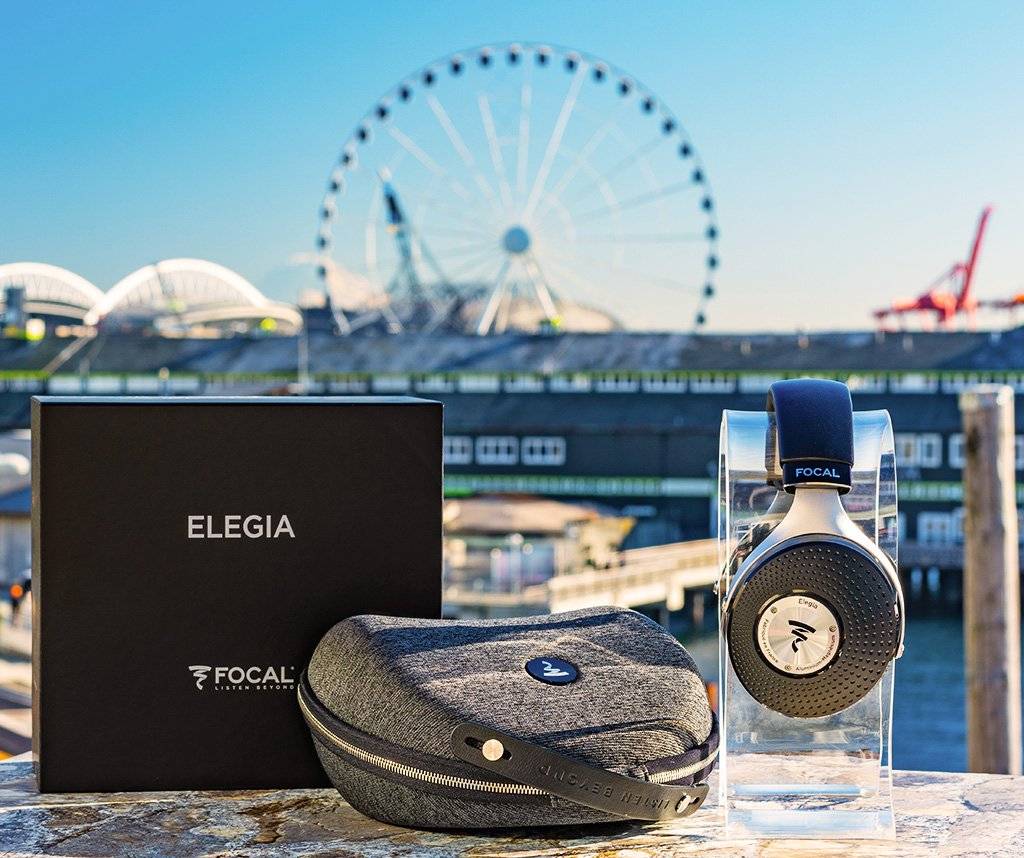 Focal Elegia Closed-Back Headphones
1 hard-shell carrying case: 10" x 9" x 5" (250mm x 240mm x 120mm)
1 four-feet (1.2m) OFC 24 AWG cable with asymmetrical 3.5mm TRS Jack connector
3.5mm female Jack adaptor - 6.35mm male
More Reviews of the Focal Elegia
Type

Circum-aural closed back headphones
Impedance

35 Ohms
Sensitivity

105 dB SPL / 1 mW @ 1 kHz
THD

0.1 % @ 1 kHz / 100 dB SPL
Frequency response

5 Hz-23 kHz
Speaker driver

1.57" (40 mm) 'M'-shape Aluminium/ Magnesium dome
Weight

4.68 lbs
Cable provided

3.94 feet (1.2 m) asymmetric cable (0.14" - 3.5 mm TRS jack). 0.14" (3.5 mm) to 0.25" (6.35 mm) stereo jack adapter.
Hard-shell carry case provided

Yes
UPC

191561737860
Focal Elegia Closed-Back headphones
Cable provided: 3.94 feet (1.2 m) asymmetric cable
(0.14" - 3.5 mm TRS jack)
0.14" (3.5 mm) to 0.25" (6.35 mm) stereo jack adapter.
Hard-shell carry case provided 10" x 9" x 5" (250 x 240 x 120 mm)