iBasso DC01 2.5mm Balanced DAC Cable Adapter
The DC01 supports up to 32bit/384kHz PCM decoding and up to 256x Native DSD decoding, with a THD+N below 0.001% and providing high power output of up to 113mW @32ohm. With this you are more fully able to make full use of quality of your valuable music. Wonderful HiFi music starts from the heart of the music source.
The AK4493 is a desktop level stereo DAC chip, featuring AKM's Velvet Sound technology. The signal-to-noise ratio has been improved when compared to the previous AK4490. It can be found in new generation desktop DACs and is widely used in high end portable audio players. With extensive work we have implemented the AK4493 into the compact DC01 DAC cable adapter.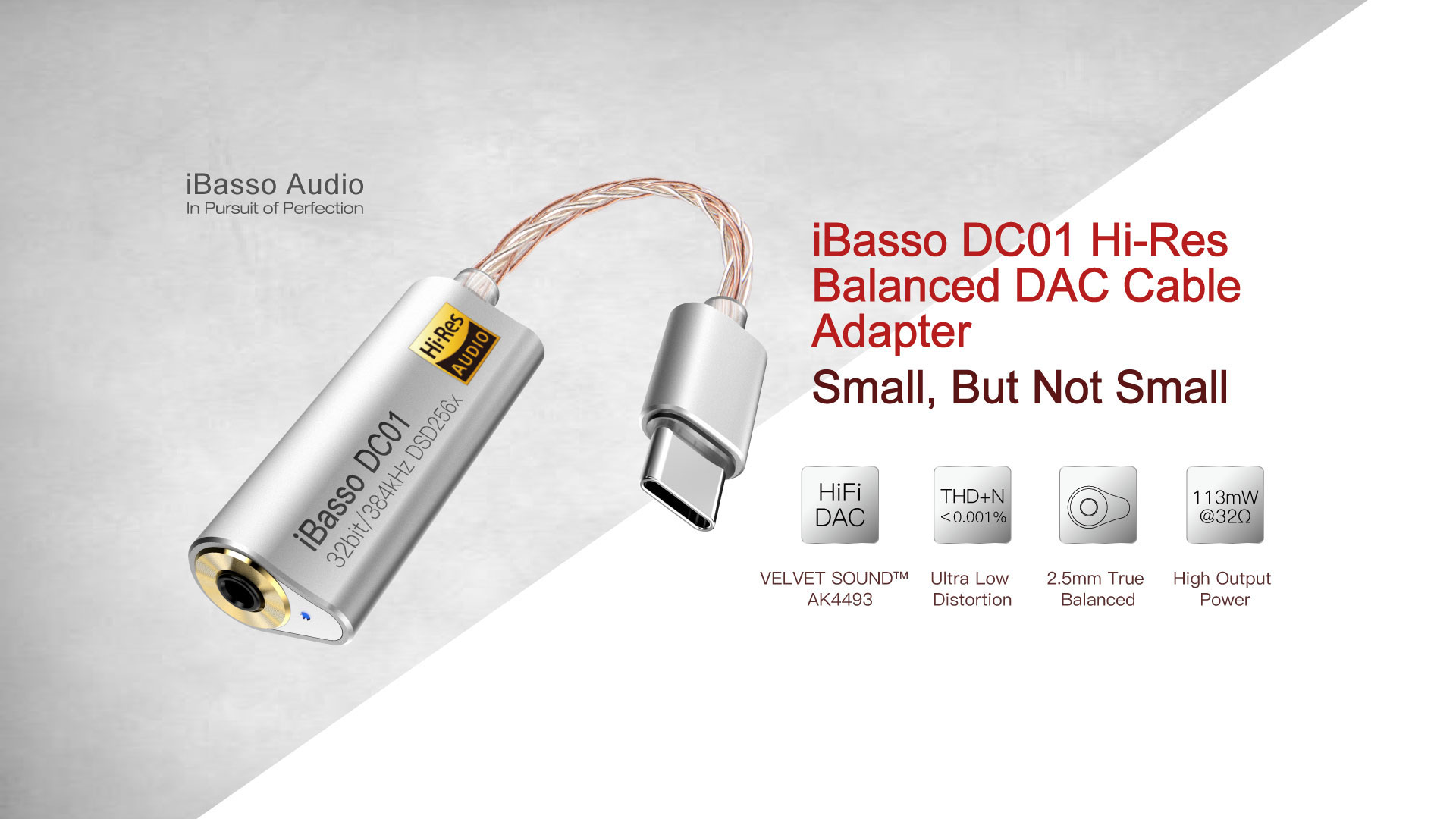 New generation AKM4493 Premium 32-bit Stereo DAC
VELVET SOUND™ technology
Support of PCM up to 32bit/384kHz
True balanced amplifier with 2.5mm balanced output port
Works as a USB-DAC for Android smartphones and tablets, Mac, Windows, and Linux computers
USB-C connector for better compatibility with Android smartphones and tablets
Dual ultra-low noise LDOs to ensure a high-performance audio
8-wire braided audiophile cable
True Balanced Headphone Amplifier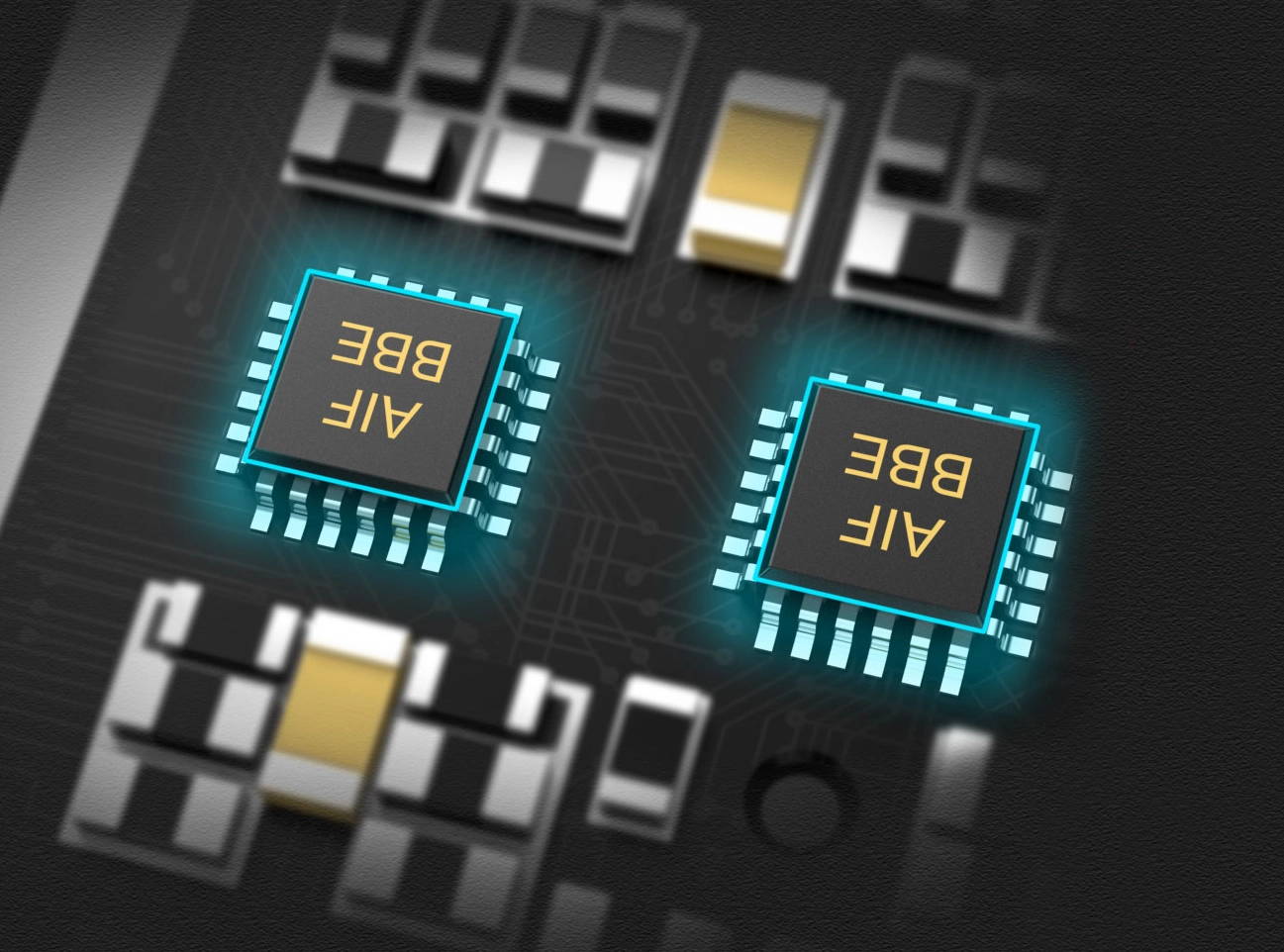 iBasso introduces the concept of balanced audio in professional audio, into this portable DAC cable adapter. It uses a true balanced circuit with dual ultra-low distortion LDOs to create a true balanced amplifier, which provides high output power with improved.
Easy to Use with Smartphone and Computer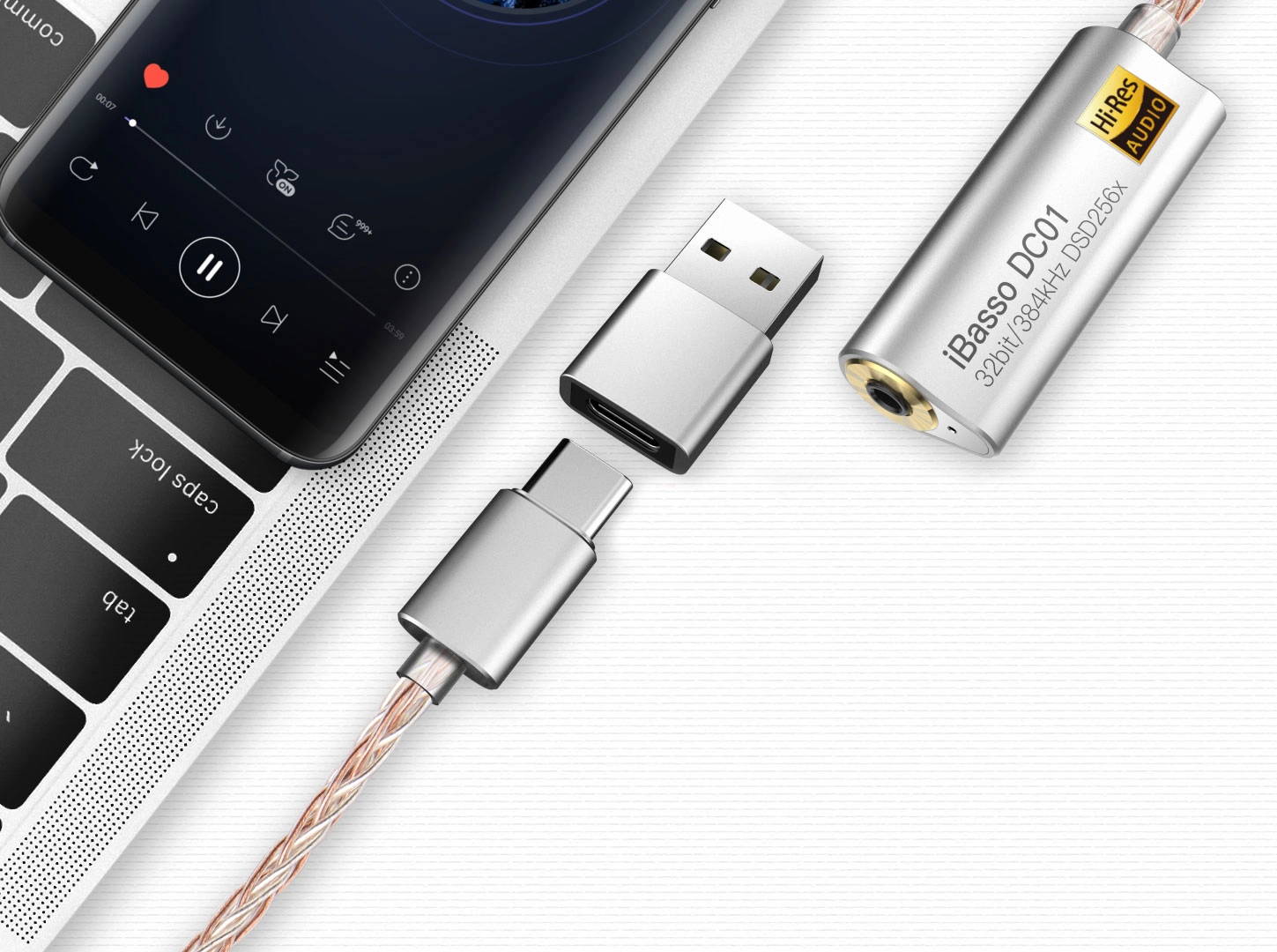 The DC01 uses a USB-C connector and utilizes the standard UAC2.0 USB receiver. It is compatible with most Android Smartphones and tablets on the market. It can also be connected to the Mac and Windows computers via the high-quality supplied C to A converter. This allows it to work as a USB Soundcard. With the DC01 using the standard UAC2.0 sound card chipset, Mac and Win10 computers are plug-and-play. For WinXP, Win7, and Win8 systems, please download the driver from iBasso's website. Once properly installed, it can be used as a USB soundcard.
64-Step Hardware Volume with a Dedicated App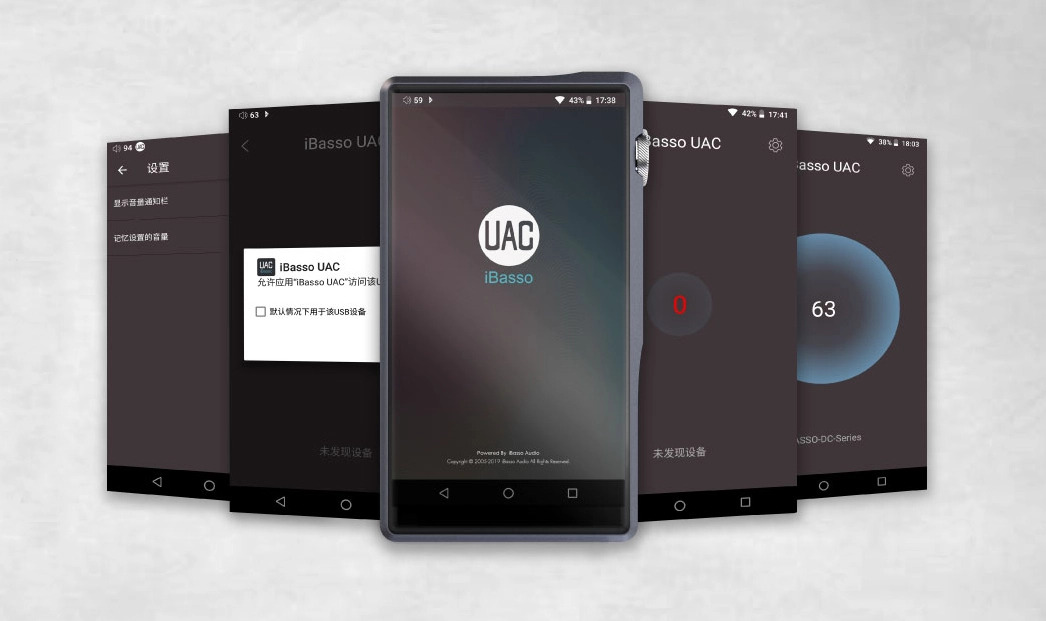 Windows 10 and Android 5.0 and above support the UAC2.0 protocol by default. However, for compatibility reasons, Android Smartphone manufacturers still use SRC on audio output. When DC01 is connected, the maximum volume is achieved by default, the software algorithm of the device is used to reduce the volume. The software algorithm can reduce the volume but cannot reduce the noise floor. Therefore, iBasso developed a UAC2.0 volume controller app to achieve 64-step hardware volume control, effectively reducing the noise floor while achieving a better audio performance.
The DC01 can be plug-and-play on Android Smartphones and tablets with Android 5.1 and above, without installing drivers or third-party apps (due to the Android device's system or hardware limitation, there may be a low compatibility issue with some smartphones or tablets). On some Android devices, it may be necessary to manually turn on the OTG function in the system settings.
The DC01 uses a standard UAC 2.0 sound card chipset for plug-and-play on Mac and Win10 computers. For WinXP, Win7, and Win8 systems, please download the driver from the iBasso website. Once properly installed, it can be used as a USB sound card.
There is no built-in battery so the DC01 receives its power through the USB interface from the master device. The actual power consumption is related to the operation and the device system. Because DC01 has an audiophile DAC chip it is normal for the DC01 to get warm during use.
*So far, we found that the DC01 has compatibility issues with the Samsung S9 and S10 smartphones. It works flawlessly with other Android smartphones.
*The DC01 can be used without the UAC volume control app. With the iBasso app, you can use their 64-step hardware volume control.
DAC Chipset
THD+N
Output Voltage
Output Power
Frequency Response
PCM
DSD
Weight
Length
AK4493
<0.001% (32ohm load, 1.2Vrms)
1.9V (32ohm load)
113mW @32ohm
20Hz-40kHz +/--0.5dB
Up to 32bit/384kHz
Native DSD up to 256x
11g
120mm
iBasso DC01 2.5mm Balanced DAC Cable Adapter
USB-C to USB-A converter
User Manual
Warranty Card