Do you have specific questions about this product or our policies? Talk to an actual human now with hands on experience and expert advice. We're here for you!
Description
The Power House
KANN ALPHA, the third product in the KANN series of Digital Audio Players.
While the goal of the Astell&Kern KANN line is to provide ultra high power output to drive any headphone or IEM,
KANN ALPHA has not forgotten the essence of being a portable DAP,
so you can enjoy a near-perfect sound experience wherever you are.
The first Astell&Kern DAP to feature a 4.4mm balanced output
Complete separation of balanced lines to provide noise-free output
Crosstalk of 141dB and top-notch audio performance through a complete circuit redesign
Powerful 12Vrms ultra-high output support
14 ½ hours of continuous playback
Equipped with the latest version of Bluetooth, Bluetooth 5.0
Artistic design and ultra-precision metal shaping technology that Astell&Kern has perfected
First DAP to Feature 4.4mm Balanced Output Port,
Completely Noise-Free
The newly introduced feature of the 4.4mm balanced output port is exciting, however, the most important part is how we implemented it.
Unlike other manufacturer's products, KANN ALPHA has physically separated the 2.5mm and 4.4mm outputs using micro relays.
When 2.5mm and 4.4mm structures are connected only to the mute circuit they do not prevent noise interference
that may occur because each signal is not properly blocked.
KANN ALPHA boasts noise-free output because we built in an independent structure that completely blocks
interference from outputs that are not being used and to be switched off therefore preventing the noise from occurring.
In order to minimize contact noise from the output,
a gold PVD coating method is applied to the headphone connector instead of the typical rings used by other products.
This improves both design and function.
By adopting NDICS' Pentaconn 4.4mm connector,
KANN ALPHA not only satisfies the requests of users, but the implementation boasts excellent quality and durability.
The Highest Level Of Channel
Separation(Crosstalk)
KANN ALPHA boasts excellent performance measurement for crosstalk. Channel crosstalk is how much signal leaking there is between the L and R channels.

The higher the crosstalk number, the better the separation between channels and the deeper and wider the sense of space that can be felt.

As evident with the newly developed audio circuit design, KANN ALPHA features a never before seen Crosstalk measurement of -141dB(High Gain), which is unmatched by any other portable audio products in its class.
KANN ALPHA supports the same powerful 12Vrms output as the existing
KANN CUBE, however the player has been optimized to be more compact.
This is achieved through the miniaturization of numerous parts such as resistors
and capacitors, by rearranging various components and through circuit optimization.
This resulted in the modification of more than 60 parts during the development process.
Ultra-small tantalum capacitors, which were developed exclusively for Astell&Kern
through a collaboration with Matsuo Electric in Japan to meet our high performance
requirements, supply stable power to the player and suppress electrical noise.
This redesigned power circuit used in KANN ALPHA also allows us to achieve
14 ½ hours of continuous playback.
A comparison of outputs of KANN ALPHA vs. KANN CUBE vs. KANN
Features
KANN ALPHA
KANN CUBE
KANN
Product

Output Level
[High]
Unbalanced 6Vrms
Balanced 12Vrms
(Condition No Load)
[High]
Unbalanced 4.1Vrms
Balanced 8.1Vrms
(Condition No Load)
[Mid]
Unbalanced 4Vrms
Balanced 8Vrms
(Condition No Load)
[Low]
Unbalanced 2.1Vrms
Balanced 2.1Vrms
(Condition No Load)
[Low]
Unbalanced 2Vrms
Balanced 4Vrms
(Condition No Load)
Dimensions (WxHxD)
68.3 x 117 x 25(mm)
87.7 x 140 x 31.5(mm)
71.2 x 115.8 x 25.6(mm)
Playback Time
14 ½ Hours
9 Hours
15 Hours
Equipped With Bluetooth 5.0 and Support for
Wireless 24-Bit Qualcomm® aptX™ HD , LDAC Codecs
KANN ALPHA is the first Astell&Kern player to use Bluetooth 5.0.
The latest Bluetooth version provides high sound quality with the convenience of wireless playback to headphones and IEMs.
Bluetooth 5.0 features faster transmission speed and greater range compared to Bluetooth 4.2, therefore providing a more stable wireless connection.
Both LDAC and Qualcomm® aptX™ HD is supported to provide audiophiles with the best wireless sound possible.
The high-quality sound that Astell&Kern is known for can now be heard when using Bluetooth earphones, headphones, and speakers.
Bluetooth Code Bit-rates Compared (kbps)
LDAC

 

(Quality)
LDAC

 

(Normal)
LDAC

 

(Connection)
SBC

 

(Max)
SBC

 

(Mid)
990
660
330
328
229
0
100
200
300
400
500
600
700
800
900
1000
Bluetooth version comparison
| Features | Bluetooth 5.0 | Bluetooth 4.2 |
| --- | --- | --- |
| Speed | 2Mbps | 1Mbps |
| Range | 40meters | 10meters |
| Power Consumption | Low | High |
| Battery Life | Longer | Shorter |
Customize Your Sound
With KANN ALPHA, you can enjoy the fun of creating your own
customized sound by selecting among various DAC filters
provided by the DAC manufacturer.
Impulse Response

Filter name

Description

Linear Phase Fast Roll-Off

Most Common filter with clean suppression and high rejection, best for music with high transients. Provides crisp clean highs

Minimum Phase Slow Roll-Off

Non Symetrical filter designed to minimize pre ringing.
Strong punchy bass with good transient attacks

Hybrid Fast Roll-Off

Combination of Linear phase and Minimum phase.
Fast transient attack, strong punchy bass, crisp highs.
Real-Time Information Confirmed by Light
KANN ALPHA features a LED volume wheel which displays various playback information,
including volume level and bit-rate of the track currently playing.
* LED can be turned on or off according to user setting.
LED Lighting Off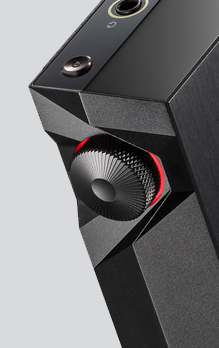 16bit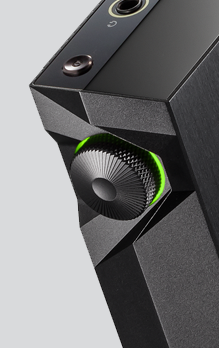 24bit
32bit
DSD
Unique Manufacturing Technology Taken to a New Level
Astell&products are often compared with art sculptures in that they feature colorful facets and angles
that cannot be found in other products.
This is accomplished through the use of extremely precise metal manufacturing technology
that has been perfected by Astell&Kern over many years.
The first generation KANN used an extrusion method to form the aluminum body
where the KANN APLPHA uses precise metal manufacturing to create a luxurious and detailed design.
A precision mold is then separately manufactured for the high-gloss ceramic top cover.
Astell&Kern then uses more than seven different processes including low-speed machining to form the ceramic top cover and prevent cracking.
Unlike other manufacturers, a ring is not simply inserted into the ceramic top where each audio terminal is located, instead
a gold PVD coating is applied to minimize noise. A special coating is also applied to the ceramic surface to prevent fingerprints and smudging.
Astell&Kern's proprietary aluminum body design suppresses noise to improve sound quality,
while providing the best signal transmission to the audio circuits.
With our laser ground extension technology, you can achieve the best sound possible.
The vibration-free processing machines used by Astell&Kern are the same ones used by expensive Swiss luxury watch manufacturers.
This is reflected in the crafting of the volume wheel which is processed precisely like the crown of a luxury watch for the best operating feel.
Independent machining processing is applied to individual areas to create each small pattern.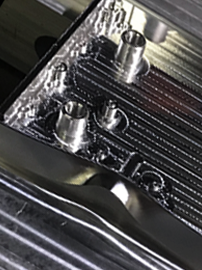 Support for MQA 8x Rendering and MQA-CD
Enjoy the original master sound through the dedicated hardware full decoder installed in KANN ALPHA.
KANN Alpha includes MQA technology, which enables you to play back MQA audio files and streams,
delivering the sound of the original master recording.
MQA-CD playback is also supported on KANN ALPHA when playing MQA-CDs content using the AK CD-Ripper.
You now do not need special, expensive equipment to play back MQA-CDs.
MQA and sound Wave Device are registered trademarks of MQA Limited. © MQA Limited 2016
Qualcomm® aptX™ HD is a product of Qualcomm Technologies, Inc. and/or its subsidiaries.
Qualcomm is a trademark of Qualcomm Incorporated, registered in the United States and other countries.
Qualcomm® aptX™ HD is a trademark of Qualcomm Technologies International, Ltd., registered in the United States and other countries.
When Taron and Andrew Lissimore started headphones.com, they wanted to create the headphone store they wished existed. As headphone enthusiasts, they dreamed of a store with 365-day returns. 

So they decided they were going to try to make 365-day returns work - no matter how ridiculous it sounded to their friends.

Years later, they're still doing it, and their friends still think they're crazy.

So take some time to get to know your new gear. We want you to enjoy your purchase for years, not just a few weeks. If you're not satisfied, you can return items in like-new condition for up to 365 days.
Returns
Returns process
Returning is easy - Start by filling out this form https://returns.headphones.com/. Please include your serial number and a detailed reason for your return. If you do not provide a return reason, your return may be rejected. 
When your return is accepted, an instant store credit will be sent along with a return label. You can use the instant credit to make another purchase right away. If you prefer a refund to your original payment method, we will process the refund to your original payment method once your item has been received and inspected by our team. The inspection process can take up to 5-7 business days.
Once you have received your return label, you have 7 business days to drop off your return. If your return has not been dropped off at the courier within 7 days, an additional 30% restocking fee will apply. If your return is not dropped off within 30 days, your return will no longer be accepted.
To avoid additional restocking fees, your item must be in like-new condition with its original packaging. It must also include all original accessories and manuals. Please add a larger shipping box to protect the original packaging during shipping. The cost of the return shipping  will be deducted from your refund.
Return eligibility
Your item must be in like-new condition with its original packaging, accessories and manuals. Please use a shipping box to protect the original packaging during shipping.
The following items are not eligible for returns:
Sale or discounted items,

Final sale items

Special order items

Open-box items

Price-matched items

Accessories, such as ear pads and ear tips (for hygienic reasons) 
These items are still covered by the manufacturer's warranty, where applicable.}
Cryptocurrency
If you paid with cryptocurrency, we will refund you either (1) the exact amount of cryptocurrency used to make the purchase or (2) the original USD purchase amount at our discretion.
Restocking Fees
All items have a base restocking fee of 10%. Return shipping costs are deducted from your refund.
The following additional restocking fees apply to the items listed below:
In-Ear Headphones  +5%

Affirm Financing  +5%

Missing Accessories or original packaging  +15%

Products with batteries  +5%

Earwax or Dirty headphones  +25%

Return of more than 2 items in a calendar year  +25%

Failure to ship item within 7 days of receiving return label  +30% 
Cancellations
All Affirm financing orders have a 5% cancellation fee. 
For all other payment methods, your first cancellation is free. Subsequent cancellations have a 5% cancellation fee. We understand that sometimes life happens and an order needs to be cancelled, but we pay a non-refundable payment processing fee for each transaction.
Special order items are non-cancellable and non-returnable. Special order items may ship earlier or later than the estimated shipping window and this will not be accepted as grounds for cancellation.
Policy Abuse
In order to provide a 365-day return policy, we need to take abuse seriously. 
We reserve the right to refuse orders from customers we believe have abused, or will abuse, our return policy, at our discretion. This includes customers who spread returns across multiple accounts.
We made our return policy to help you find gear you feel great about for a long time. Most people use it exactly as intended. We don't want the handful of people who attempt to abuse our policy to ruin it for everyone else.
One of the key things we pride ourselves on is our customer service and one of the most important aspects of our customer service is getting you your product on time! But not only do we want to get it to you on time, we want to make sure we are using a reliable courier so the experience for you is the best possible. That is why we ship all of our orders with FedEX.
While couriers like USPS are tempting because of their low cost, we have found that they are not a good experience for our customers. Nobody wants their package to not be delivered and then have to spend an hour on hold with the local post office trying to get information. To that end, all of our packages are shipped signature required with FedEX to make sure your package arrives in your hands safe and sound and if there are any issues, your time isn't wasted.
However, if you are looking to ship to PO Box or APO address, we can definitely accommodate your shipping needs!
How Much Does Shipping Cost?
Shipping in the continental US is free if your order is over $100, no matter what (you do always have the choice to upgrade your shipping at checkout as well). 
Canadian Shipping
Canadian orders over $250 are eligible for free shipping. Duties & Taxes are not included but you can choose to pay Duties & Taxes during checkout with DHL. 
International Shipping
Due to our vendor agreements with the brands that we carry, we are unable to ship outside of the United States or Canada. 
FedEX Ground Shipping
All orders $100 or over & under $300 qualify for free FedEX Ground shipping.
FedEX 2-Day Shipping
All orders between $300 - $999,99 get free FedEX 2-Day shipping.
FedEX Overnight
All orders over $1000 qualify for free FedEX Overnight shipping. Overnight shipping is covered under FedEX as the next business day. Saturday and Sunday deliveries are not part of their guaranteed overnight delivery. 
Signature Requirement
All orders shipped through Headphones.com are shipped with signature required. Since most signature requirements have been suspended during COVID-19, we are shipping orders with an Adult Signature Required.
How Soon Will My Order Ship
We strive for every item we have on the website to be in stock and ready to ship the same day. So if your order is in stock and you place your order before 1pm PST, it will ship that same day.
Sometimes, we like to give our customers the opportunity to place orders on backordered items or pre-orders. In those situations, it will be clearly written on the page that the product is backordered or available for pre-order. When the item is back in stock, it will ship out with the FedEX shipping methods above.
Questions About Shipping
If you have any questions about shipping or any other concerns, always feel free to reach out to us via our Live Chat located at the bottom right corner of your screen or by E-mail at info@headphones.com
Paying with Cryptocurrency is easy at Headphones.com! 
The simplest way to pay is by simply going through our checkout process. After entering your shipment details and choosing your preferred shipping method, you will be able to select your payment method. From there you will have the choice to pay with a variety of different cryptocurrencies.
If you don't see the currency you're looking to pay with or would prefer a manual quote, please feel free to e-mail us at info@headphones.com and we will be happy to help!
Payment & Security
Your payment information is processed securely. We do not store credit card details nor have access to your credit card information.
Do you have specific questions about this product or our policies? Talk to an actual human now with hands on experience and expert advice. We're here for you!
Payment & Security
Your payment information is processed securely. We do not store credit card details nor have access to your credit card information.